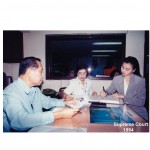 Christine Florido is a legal professional who was admitted to the Philippine Bar in 1994.
She is a graduate of Ateneo de Manila University and of Ateneo de Manila- College of Law.
In 1996, she completed the Program of Instruction for Lawyers at Harvard Law School, U.S.A. and the Private International Law Session at the Academy of International Law at the Hague (Den Haag) in Netherlands.
Relevant educational background:
Bachelor of Science, Major in Legal Management, Ateneo de Manila University; Awards Received: Legal Management Departmental Awardee and Honorable Mention
Juris Doctor, Ateneo de Manila University, College of Law; Awards Received:  Second Honors, Silver Medal
Work experience:
Government :  Bangko Sentral ng Pilipinas (BSP, formerly Central Bank of the Philippines)[1995], National Development Company(NDC) [2000], Movies, Television, Ratings and Classification Board (MTRCB) [2000]);
Private sector:  Castillo, Laman, Tan and Pantaleon Law Offices, Primetown Property Group, Inc., Evoserve, Inc, Textron Corp., Spectrum Surveying and Engineering (USA).
The author's current interests are in Information and Communications Technology, Human Resources and Family Law.