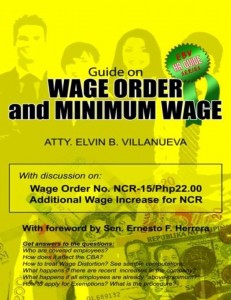 LVS Publishing recently launched its latest labor law guide entitled "Guide on Wage Order and Minimum Wage"– a must-have for every employer, business owner, manager and HR specialist.
This handy guide teaches you how to apply the latest minimum wage law in your current business.
Find the answer to your most frequent questions:
– Who are covered employees?
–  How does the wage order affect existing terms of CBA?
–  What is wage distortion? See sample computations!
–  What happens to recent salary increases in the company?
–  What about employees who are already receiving 'above-minimum' rates?
–  Are there exemptions and how to apply for it?
The Revised 2011 Edition now contains updates in the new minimum wage rates.  Subscribe to the affiliated website HR Practitioners Guide for updates in minimum wage rates.
The Revised 2011 Edition is now available online in PDF format, both for ordinary document views and Kindle reading at Php 597.00 each.  Order here.